New Products Group has updated the range of flavours of the legendary cider APPS™, which has already become the staple of the company. This time, the company offers APPS Fragaria with the flavour of strawberries and mint.
APPS Fragaria is a seasonal naturally-fermented drink made from pure apple juice with the addition of natural juices and extracts of strawberry and mint. The strawberry extract gives the cider a special summery sweet taste and a seductive aroma, and the sourness and freshness of the green apples completes the bouquet of flavours. The cider "Fragaria" has a pink tint due to the addition of black carrot juice into the beverage.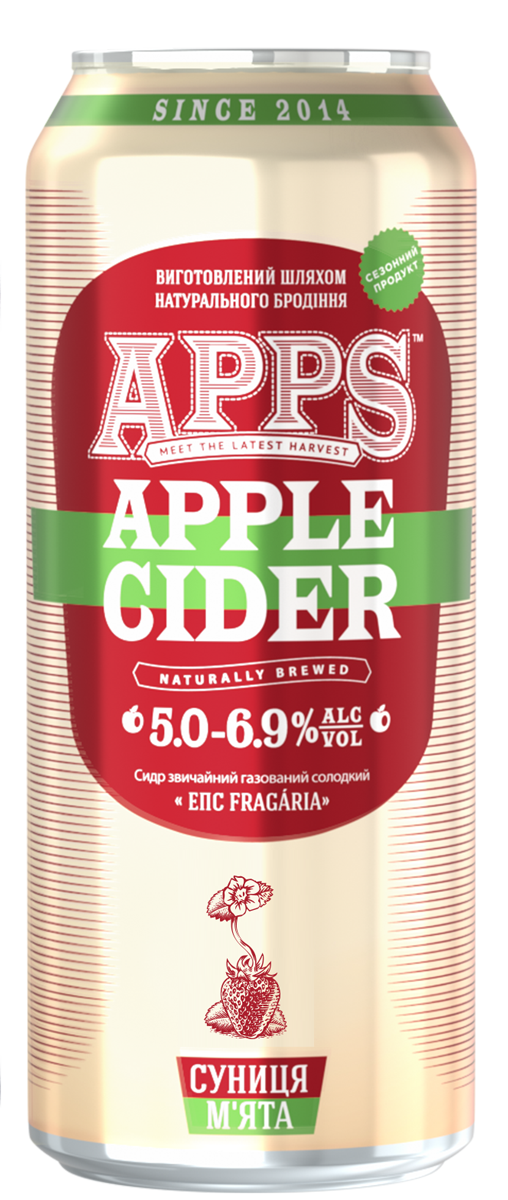 "We are always very interested in inventing new flavours of the apple cider APPS™, because it is a scientific and creative process at the same time. We conduct experiments, study a lot of recipes – and as a result, we come up with different seasonal and cocktail versions of ciders. This time we managed to create a real summer taste, combining the bright aroma of strawberries with the coolness of mint, underscored by the classic freshness of green apples. Every sip of this light and fragrant drink should bring pleasure and refreshment," commented Gennady Dovgan, Marketing Director of New Products Group.
APPS™ ciders are created at the New Products factory in Zhashkiv in accordance with a classic technology, via fermenting the reconstituted apple juice with pure cultures of French wine yeast. APPS™ ciders do not contain dyes and artificial flavouring – only plant extracts and natural juices. The drinks are made from the water from the artesian wells located on the territory of the plant.
The APPS brand has been on the Ukrainian market since 2014. According to the State Statistics Service and New Products Group, APPS™ ranks second on the Ukrainian market with a share of 19% in physical terms. The sales of APPS™ over the past two years increased more than 2.5 times and amounted to 5 million liters in 2017.
During 2016-2017, the APPS™ line added such new flavours as apricot, plum, pear, cranberry, elderberry, HAPPY Morning with sour pomegranate, Bellini with peach, Kir Royal with blackcurrant. Today, the APPS™ line is two main flavours – classic apple and cherry. The craft kegs also include APPS Cherry and APPS Quince – an original cocktail with a sweet-and-sour taste of quince.
The bottling of the new drink with the taste of strawberries and mint has already begun. The seasonal cider APPS Fragaria in glass bottles and aluminum cans of 0.5 liters will appear in Ukrainian stores in mid-June 2018.